Rustic Fruit Tart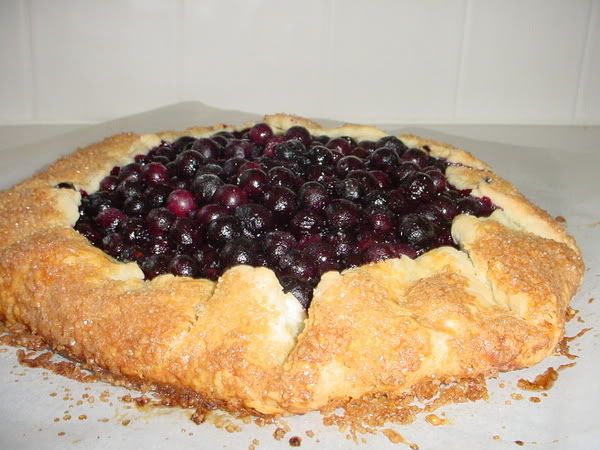 My newest Fine Cooking magazine just came, and I had to go through it immediately. There is an article titled "How to Make a Rustic Fruit Tart" with various filling suggestions. Blueberries have been so nice at the supermarket that I decided it would be perfect for the 4th of July.
I don't have much experience with dough or pie making or anything like that, but I didn't seem to have any trouble with this. Until I got to the part where you transfer it to a rack to cool and then transfer to a serving plate or cutting board. I was super careful, but since there wasn't anything stabilizing the bottom, it cracked just a tad, letting gorgeous blueberry juice leak through. Which wouldn't have been a problem, except that by the time I was ready to serve it, the bottom was soaked and it didn't serve easily or prettily.
It tastes great though! Especially the folded over part of the crust with the turbinado sugar all crunchy good, and the juiciness of the blueberries.