Mushroom-Dusted Tuna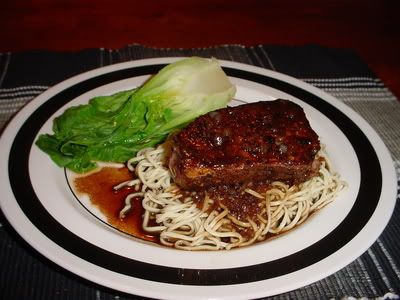 I've been wanting
Andrea Immer
's new book, and finally bought it. I haven't finished reading it, but so far it's wonderful. I love the way it's organized. And there are so many recipes and wine pairings that I want to try! The only reason I'm starting with this one is that Central Market had some absolutely lovely yellow-fin.
The recipe says to use your food processor to turn the dried porcini into dust. Part of mine turned into dust, but some pieces just flew endlessly around the bowl. So I resorted to the old fashioned mortar and pestle.
Gary seemed skeptical. Until he tasted it. OMG, this is WONDERFUL! It doesn't really qualify as "everyday", because it's a fairly expensive menu and it takes awhile. But it was fine for a Sunday night.
It is delicious. Absolutely delicious. Although I wish I hadn't made the noodles because they were just filler.
Mushroom-Dusted Tuna with Black Bean-Hoisin Sauce (Everday Dining with Wine, p. 151)

Soba Noodles
Sauteed Baby Bok Choy
2002 Chateau St. Jean Pinot Noir (Sonoma County)