Braised Root Vegetables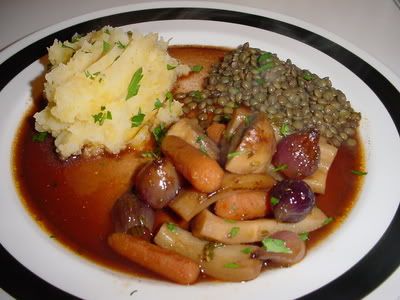 We had our friends Dave & Beth over for Open That Bottle Night. The idea is to make a nice dinner and open a bottle of wine that you've been saving for a special occasion.
While I finished cooking dinner, we opened a bottle of 2001 Spelletich Cellars Zinfandel (Alviso Vineyard, Amador County) that Dave & Beth brought over. We had it with some Manchego Artequesano and some Roasted Garlic & Rosemary Black Olives that I picked up from Central Market. The wine and the cheese and the olives were all super yummy.
I've been wanting to make this particular vegetarian dinner ever since
Sheri
first made it and she's made it twice now! But I also wanted to make it for guests who would appreciate it, and I thought Dave & Beth might enjoy it.
Rutabagas are a root vegetable, similar to a turnip, but larger. They have a waxy coating on the outside that you peel off. I grew up eating them mashed with salt and pepper. If you didn't, or if you don't care for strong-ish vegetables, then this puree is a good way to try it because the potatoes are bland and make the combination more mild. Everyone seemed to like them.
The braised vegetables were overcooked, but Julia Child taught to never admit a mistake in the kitchen. However something turned out is just how you meant for it to be. So I didn't say a word and everyone ate it right up.
I had no idea what we would open with dinner. Gary and I had planned to go through the wine pantry earlier in the week, but never got a chance. He ended up pulling out several things to choose from and we picked a 1993 Freemark Abbey Cabernet Sauvignon. Neither one of us has any idea when or where we got it or why we have it. It was soft and elegant.
After dinner, Dave & Beth surprised me. They had brought over the last bottle of their very own July 1993 Raspberry Mead. The only
mead
Dave ever made. Beth didn't particularly care for it back then and we had no idea what we'd get when we opened it now. Now
this
was truly in the spirit of Open That Bottle Night!
Dave opened and poured it carefully and there was just enough for each of us to have a small glass. The first aromas were delicate honey and raspberry. It had a soft yellow color, which surprised Beth because it used to be pink. It also used to be over-the-top carbonated, prickly on the tongue. But now it had just a slight fizz on the bottom of the glasses. We each took a sip. It was just lovely. Unlike anything I'd ever had before.
Braised Root Vegetables with French Green Lentils and Red Wine Sauce

(Local Flavors, Deborah Madison, p. 223)

Rutabaga and Potato Puree

(Local Flavors, Deborah Madison, p. 216)
Sourdough Bread with

Sauteed Garlic Butter

(Fine Cooking #43, p. 49)