Crabmeat-Avocado Quesadillas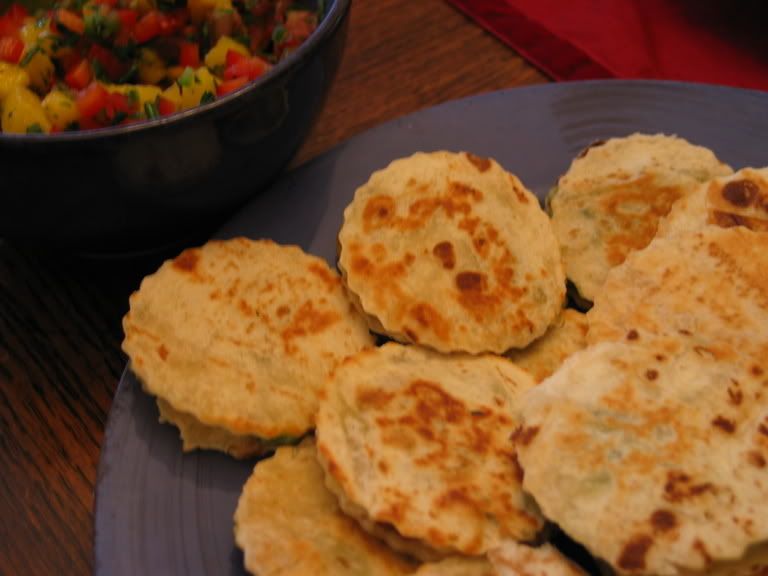 Sheri wrote about the little party we had for Jay's birthday and posted an absolutely gorgeous picture of the absolutely delicious
cake
.
The star appetizer of the night was the mini quesadillas, which were served with mango salsa. I promised the recipe to a couple of people. They are fabulous!
Crabmeat-Avocado Quesadillas (Fine Cooking #14, p. 56)

Crabmeat-Avocado Quesadillas
This recipe makes individual two-bite quesadillas, but you can make full-sized and simply cut into wedges after frying. Not as pretty, but much quicker.
Yields sixty 2-inch quesadillas
For the mango salsa:
1 ripe mango, peeled, diced into 1/4 -inch cubes
1/2 bell pepper, seeded, minced
1 large ripe tomato, peeled, seeded, minced
2 T. snipped fresh chives
2 T. chopped fresh cilantro
2 T. lime juice
1 jalapeno, seeded and minced
Let stand at least one hour so flavors can develop. Chill until ready to serve.
For the quesadillas:
Twelve 8-inch flour tortillas
1 1/2 cups cooked crabmeat, picked over to remove any bits of shell
1 1/2 cups shredded Monterrey Jack cheese
2 ripe avocados, mashed
1/3 cup minced scallion
1/3 cup lightly packed minced cilantro
2 T. lime juice
s&p to taste
clarified butter for frying
With a 2-inch cookie cutter, cut out 120 circles from the tortillas (you'll get about 10 per tortilla). Gently mix together crab, cheese, avocados, scallion, cilantro, lime juice, salt and pepper. Spread about 1 T. onto each of 60 of the tortilla circles and top with the remaining circles.
To cook, heat a little clarified butter in a frying pan and cook until lightly browned and cheese is melting, about 2 minutes per side. Serve hot with a bit of salsa on top.