Cinnamon Raisin Bread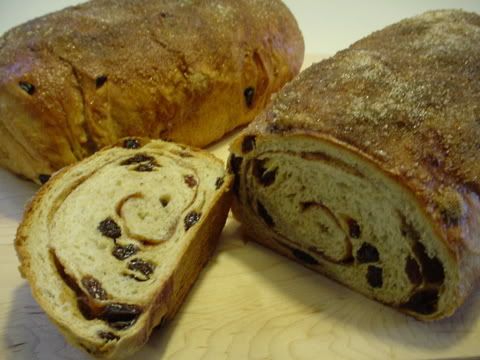 This is the fourth recipe I've tried from
The Bread Baker's Apprentice
. The picture in the book is so pretty, and I've always loved cinnamon raisin bread, that it's been on my to-do list for several months.
The last time I made
Multigrain Bread Extraordinaire
, I decided to use the KitchenAid to do most of the kneading and then the last few minutes by hand. I think it kept me from adding too much flour and makes the bread lighter, less doughy, and more airy. I decided to try that again. The dough was beautiful! I kneaded in the raisins by hand and the dough felt silky and wonderful.
I think the hardest thing about baking bread is following the part of the directions that says either "Cool one hour, preferably 2", or worse, "Cool completely" before slicing or serving. Poop. Where's the fun in that?
Personally, I think that if the recipe makes two loaves, a reasonable compromise would be to cut into one immediately, and cool the other one as directed.
So I did. OMG! FABULOUS!